What to Do If Your Brakes Make Noises While Driving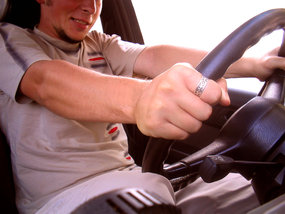 One of the most important aspects of defensive driving is using knowledge to comprehend what is happening in any situation. As a driver, you cannot control what other drivers do, but you can control your decisions and your vehicles equipment. With out a doubt, one of the most important features of a vehicle is the brake system. Many car crashes occurred last year because drivers did not understand that their brakes were not functioning properly before they braked and their system was flawed. With proper knowledge and maintenance, this can easily be avoided.
Many times when drivers brake, they can hear noises under their vehicles. This is a warning installed in the system to let you know that something needs checked in your car. Usually this means your brake pads have worn down and need replaced. It can be very dangerous if this goes on unattended for a lengthy period of time. Signs that your pads are completely worn are bad pulling in the steering wheel when braking or a bad vibration. If any of these warning signs occur, take your vehicle to a service center and let a professional look at your car. They have been trained on what to do and will get your new pads installed. You will be safely back on the road in no time.
When it comes to safety, being proactive is the key. Don't be caught unaware of what is happening with your car. Proper knowledge about the warning signs of bad brakes and other fail safes are discussed in full detail in all of the classes given at Ultimate Defensive Driving. We offer a variety of classes that are geared for everyone from the teenager who just received a license to a retiree who wants to brush up on the basics. Call today and let us help you feel more confident on the road.
Headquartered near Pittsburgh, PA, Ultimate Defensive Driving School has been serving individual and commercial clients in the Pittsburgh area and beyond since 2006.
Tag:commercial driver training, Commercial drivers training, company exposure, core compliance, Cranberry Driver Schools, Cranberry Driving Schools, defensive driving, driver ed, Driver Schools, driver training, driver's education, drivers ed, Driving Schools, exposed risk, Individual Driver Training, insurance audit, insurance company assessment, insurance exposure, jim clair, new drivers, Pennsylvania, Pittsburgh Driver Training, pittsburgh driving safety, Pittsburgh Driving Schools, risk assessment, Teen Driver Schools, Teen Drivers, Teen Driving, Teen Driving Schools, Teenage Driver Schools, Teenage Driving Schools, training, ultimate defensive driving, Ultimate Defensive Driving School