Tire Pressure Warning Light

What It Means: Also known as the Tire Pressure Monitoring System (TPMS) symbol, this image signals an issue with your tire pressure or the TPMS.
If the TPMS symbol is solid, then the pressure in one or more of your tires is too low or too high. If the TPMS symbol flashes for 60-90 seconds when you turn on your vehicle and then stays illuminated.
What To Do: Driving on low- or high-pressure tires is unsafe and can cause damage to your tires. It's  recommended to stop as soon as possible to inflate or deflate your tires to the correct pressure. There is a sticker inside the driver's door that will let you know the proper pressure your tires should be at.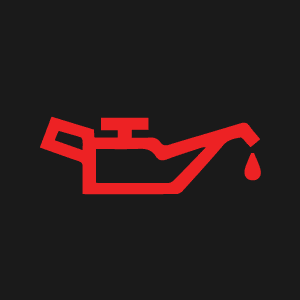 Oil Pressure Warning Light
This symbol indicates that there is an issue with your car's oil pressure system. Either you're running low on oil or your oil pump isn't circulating enough fluid to properly lubricate the surfaces inside your engine. (NOTE: Some car dashboards will display the word "OIL" instead of this symbol.)
What To Do: Poor engine lubrication can cause major engine damage! Pull over as soon as it is safe, turn off the vehicle, and check the oil! Look around the engine bay for obvious oil leaks, and then pull out the oil dipstick to check the fluid level.
If the oil level is low, then the light may go off when you add oil. If it has enough oil but the engine is running noisy, it might an issue with the oil pump. If the oil level is okay and the engine is running smoothly, your oil pressure sensor may be malfunctioning. In any case, it's important to bring your vehicle in ASAP to let a mechanic take a look and address whatever is causing the low oil/low oil pressure.
Engine Warning Light (Check Engine Light)
Your
check engine light may appear for a variety of reasons. Sometimes it is triggered by an open, loose or cracked gas cap, which causes fuel to evaporate. But sometimes it indicates a serious issue, like low oil pressure or overheating! (NOTE: Some car dashboards will display the words "CHECK ENGINE" instead of this symbol.)
What To Do: If you haven't noticed a change in the way the car drives and you don't notice any unusual sounds or smells, you can continue driving a moderate distance either home or to a local repair shop.
If the check engine light is red and/or flashing, you should stop driving immediately! In most vehicles, a flashing check engine light signals that you have a major problem that could cause serious damage to your engine if you ignore it.
In either case, make sure to get the light checked and the problem repaired as soon as possible.
Tag:Adams, Allegheny County, Beaver, butler, car maintenance, cranberry twp, defensive driving, defensive driving butler, falling leaves, Fox Chapel, Franklin Park, Gibsonia, Hampton, Mars, new teen driving law, North Allegheny, Pine, reduce risk, road safety, safe driving, sewickley, Teen Driver Schools, Teen Driving, Teen Driving Schools, Teenage Driver School, teenage driving, Teenage Driving Schools, Treesdale, Valencia, warning lights, Warrendale, wexford, Zelienople